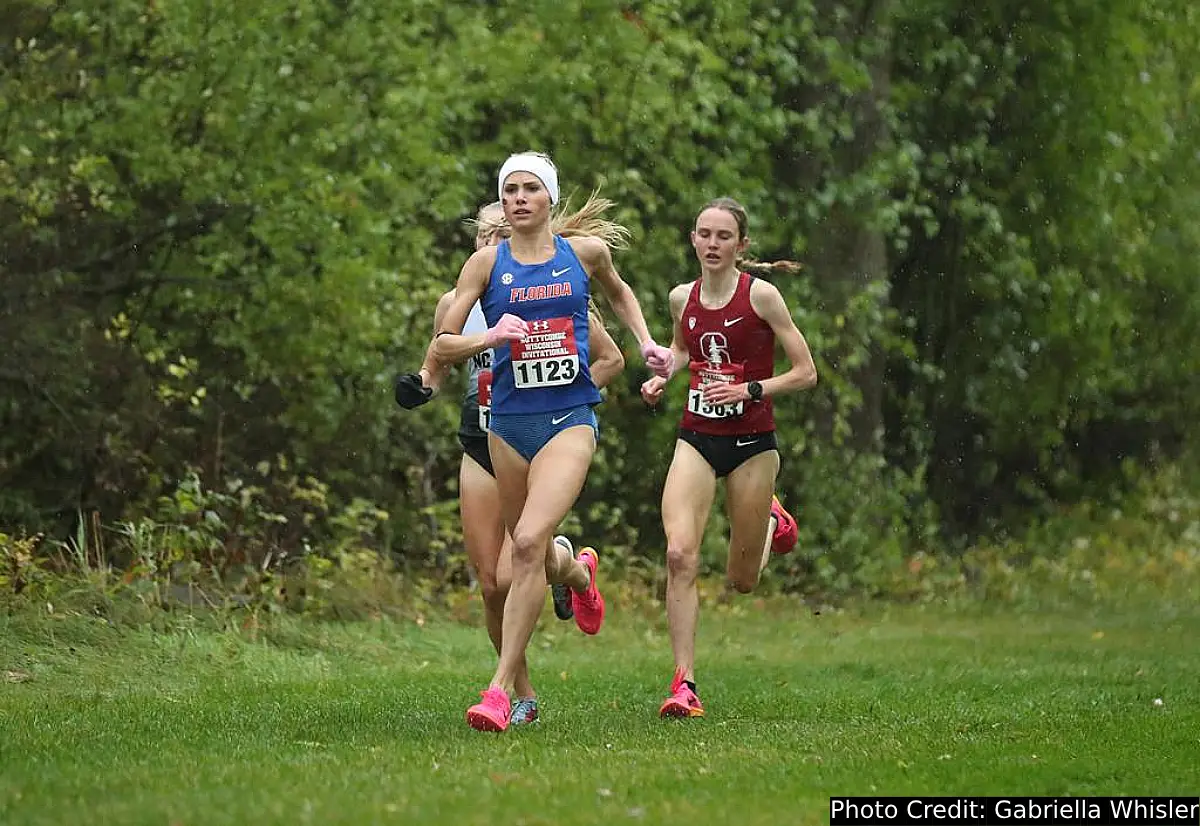 INDIANAPOLIS — Junior University of Florida athlete, Parker Valby, shattered course records to claim the women's 6K cross country Nuttycombe Invitational title and consequently, the 37th USATF Athlete of the Week award for 2023.
Nuttycombe Invitational: A Course Record in Adverse Conditions
Gainesville, Florida native, Valby, not only clinched the title but also set a new course record with a time of 19:17.2, despite challenging wet and windy conditions.
Read more: Parker Valby named USTFCCCA NCAA Division I Women's Athlete of the Week
The junior athlete pulled ahead of her closest competitor, Katelyn Tuohy from North Carolina State, around the 4K mark, extending her lead to a substantial 12.4 seconds at the finish line.
A Close Battle Until 4K
Both Valby and Tuohy, the defending NCAA cross country champion, ran neck and neck through the 2K point, passing it in 6:25. But by 4K, Valby had started to assert her dominance, clocking 13:00 and creating a seven-second gap, which she later expanded to 12.4 seconds by the race's end.
Other Notable Performances
Ben Shearer guided the Arkansas men's team to a pre-nationals meet title in Virginia, clocking a 22:55 8K time with a three-second margin of victory.
Carmen Alder led her BYU team to victory at the pre-nationals meet in Virginia, winning the individual women's 6K title by more than 10 seconds, with a time of 19:36.2.
Graham Blanks from Harvard became the men's 8K champion at the Nuttycombe Invitational in Wisconsin, finishing in 23:23.4, a 2.7-second margin of victory.
USATF Athlete of the Week: A Tradition in Its 22nd Year
The USATF Athlete of the Week accolade, now in its 22nd year, serves to recognize outstanding performances in athletics. The organization honors a new athlete every week based on their achievements, featuring them on the official USATF website.
Previous USATF Athlete of the Week 2023 Awardees
Some of the athletes who have previously won this honor in 2023 include Emily Sisson, Ednah Kurgat, Brooke Andersen, Nikki Hiltz, Gabby Thomas, Sha'Carri Richardson, Yared Nuguse, Weini Kelati, Hobbs Kessler, Conner Mantz and Grant Holloway, among others, highlighting the award's importance in recognizing exceptional athletic feats.