Reporting by David Monti, @d9monti
(c) 2023 Race Results Weekly, all rights reserved

NEW YORK (19-Mar) — In their first appearances at the United Airlines NYC Half Marathon 2023, Hellen Obiri of Kenya and Jacob Kiplimo of Uganda scored convincing victories, winning in 1:07:21 and 1:01:31, respectively.  Despite near-freezing temperatures and significant headwinds, Obiri managed to set an event and course record, eclipsing the standard set by Senbere Teferi of Ethiopia at last year's race by 14 seconds.  Both athletes won $20,000 in prize money.
Obiri and Teferi In A Two-woman Race
As soon as the starter's horn was sounded for the elite women's section at 7:08 a.m., Obiri went right to the front and established a surprisingly quick pace for the notoriously hilly course.  In the first two kilometers, Obiri was joined by defending champion Teferi, Diane Van Es of the Netherlands, Jessica Warner-Judd of Great Britain, and Karoline Bjerkeli Grøvdal of Norway.  But by the 5-K mark (15:50), everyone by Teferi had been dropped; Van Es and Grøvdal were running together about 22 seconds back.
READ MORE: Zurich Marato Barcelona 2023 results; record wins for Worku and Kimutai
From that point, Obiri took control of the race.  Teferi drafted her trying to shelter from the wind, but Obiri seemed to slice through it easily, pumping her arms in her signature style.  The Kenyan –the only woman in history to win world titles in indoor track, outdoor track and cross country– put in a little surge before 10-K (31:29), but Teferi remained close.  Obiri had made a plan with her On Athletics Club coach Dathan Ritzenhein before the race and she was sticking with it.
"Our plan was to do (the move) after 12-K, 15-K," Obiri told Race Results Weekly.  "10-K is too early."
Climbing up the exit ramp from the FDR Drive to East 42nd Street just before the 15-K point, Obiri began to drop Teferi.  The gap was seven seconds at 15-K (47:29), and although Obiri shot a few looks behind her the victory was already hers.  Now it was just a question of the time.
"It was so windy," Obiri said, shivering as she spoke.  "I say, let me push myself after 15-K, and I said maybe I can try to go faster."
Running up the service road into Central Park, Obiri held her form and handled the final hill to the finish tape with ease.  Her time was remarkably fast given the conditions, but it did not surprise her coach.
"Not too bad," Ritzenhein said with a laugh when asked about his star athlete's performance.  "She's been really training well.  I was worried; she's very afraid of the winter."
READ ALSO: Acea Run Rome the Marathon 2023 Results: Allam and Chepkwony win Elite-level event in Italy
Teferi came home alone to finish second in 1:07:35 (equaling her time from last year), and Grøvdal got third in 1:09:53 (the same place she finished last year).  Van Es ran much of the second half of the race alone, and finished fourth in 1:10:43.  Des Linden, the 2018 Boston Marathon champion, was the top American in fifth place in 1:12:21.
For three-time race champion Molly Huddle, who was running here again for the first time in six years, she ended up seventh in 1:12:25.  Huddle, 38, who had a baby girl last April, was mostly satisfied with her performance.  She said after the race that her preparations were interrupted by a bout of COVID last month and a sprained ankle.
"I stepped in a pothole one day," Huddle said, catching her breath.  "I was so mad."
Champion Kiplimo Stays Patient
The men's race went out less aggressively, that is for everyone except British veteran Chris Thompson.  Thompson, 41, scooted away from the field from the gun and quickly built up a 14-second lead through 5-K (15:00). 
The top contenders –Uganda's Kiplimo and Joshua Cheptegei, Kenya's Kennedy Kimutai and Edward Cheserek, and Morocco's Zouhair Talbi– focused on racing each other assuming that Thompson would come back.
Indeed, by the 10-K mark (30:10) the main field of 16 was only two seconds behind.  Thompson was soon absorbed, and on the FDR Drive Kiplimo asserted himself, but only gently.  He slightly upped the tempo bringing Kimutai, Cheptegei, Talbi, Cheserek and Britain's Andy Butchart with him.  Butchart even led for a brief time.
But climbing the exit ramp from the Drive to East 42nd Street, the field began to string out.  Kiplimo was at the front with Talbi and Cheptegei trying to hang on.  Cheserek and Butchart were dropped and would finish fifth and sixth, respectively.
On East 42nd Street past the 15-K point Kiplimo started to press.  Running uphill, Talbi and Cheptegei fell off, and when Kiplimo made the turn north onto Seventh Avenue at about 17 kilometers he had at least 50 meters on Cheptegei.  Like Obiri, he ran solo from there to the finish.  He was not only pleased with his victory, but also with his tactics, waiting for the right moments to push during the race.
"Actually, I knew it was not going to be fast," he told Race Results Weekly.  "Because it was up and down, I decided to stay a little bit in the back."
Cheptegei stayed ahead of Talbi to get second in 1:02:09 to Talbi's third (1:02:18).  Cheptegei, the reigning world 10,000m champion, was satisfied with his race.  It was only his second half-marathon.
"First, I'm happy to be in New York City," he said right after his physio, Vinne Los, literally dressed him in warm clothes standing in Central Park.  "It's a little bit chilly day.  Regardless, I'm really happy for second place.  As I said before, I'm still learning the half-marathon."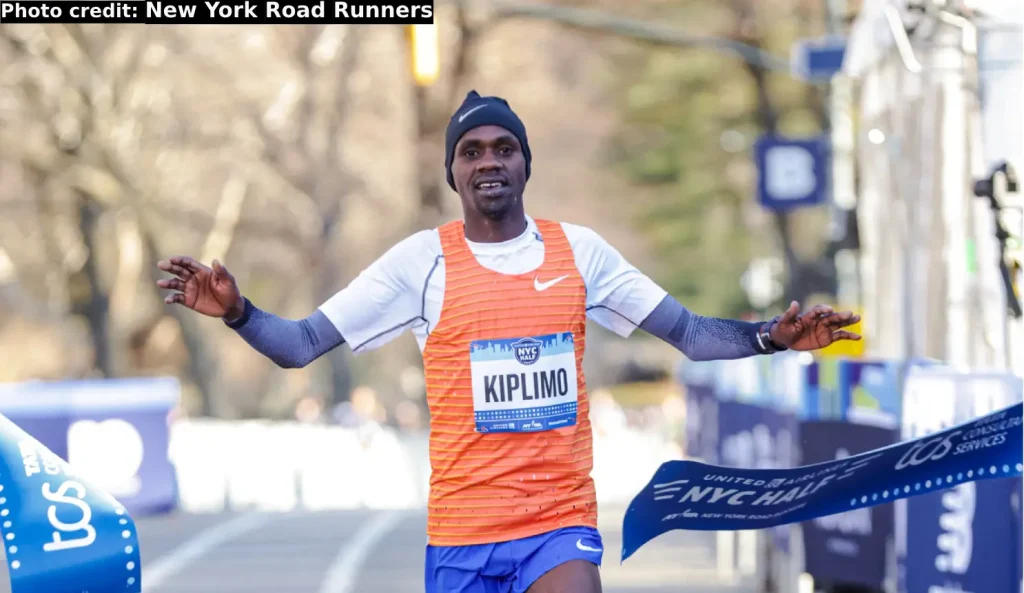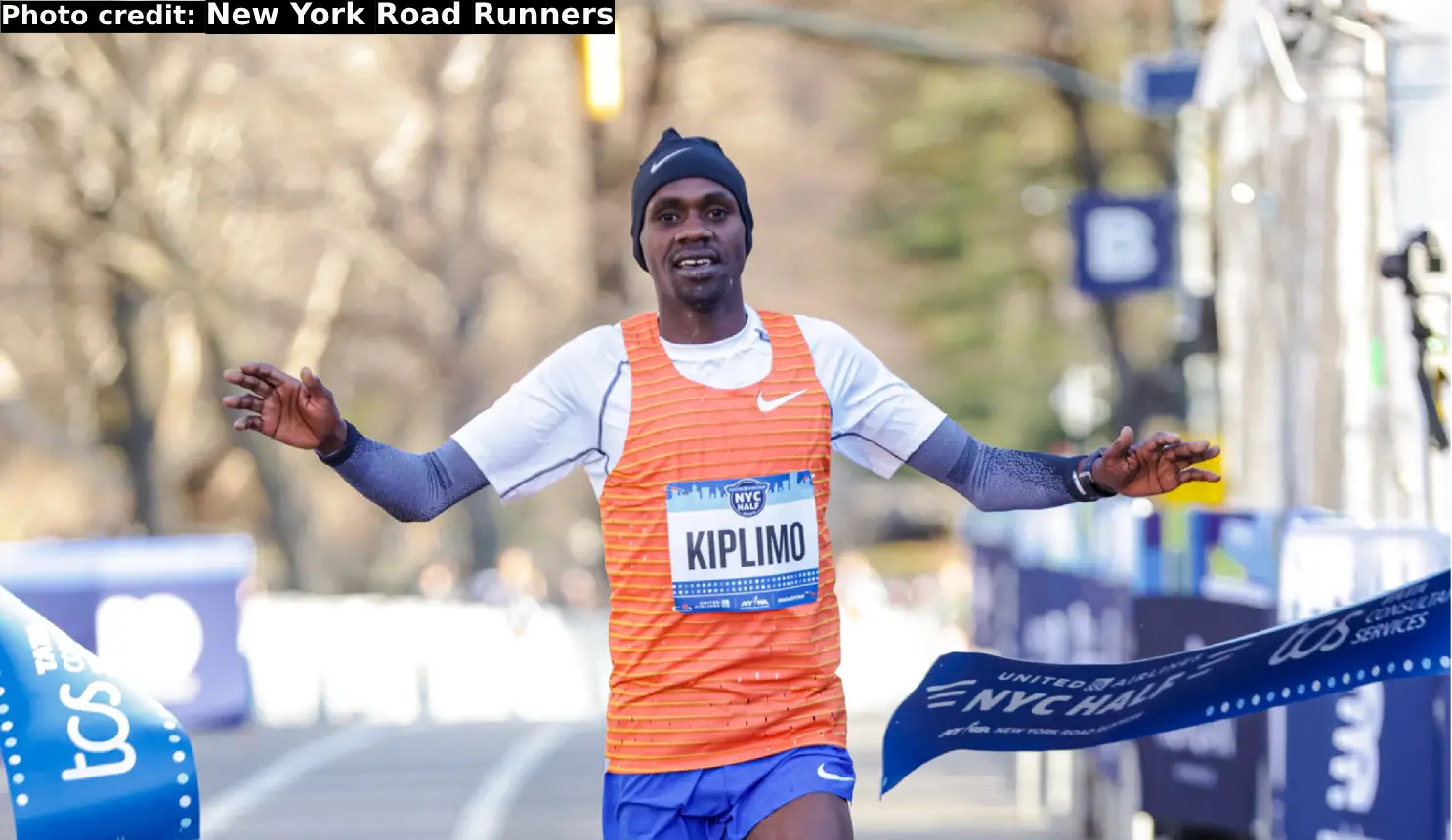 American Ben True, who won the race in 2018 on a similarly cold day, finished fourth and was the top American in 1:02:57.  He edged Cheserek who clocked 1:02:58 in fifth, the same time given to sixth place Butchart."
Two-time USA Olympic medalist Galen Rupp finished 17th in 1:04:57.  Battling injuries the last several years, he was equal parts disappointed and hopeful after today's race.  He's asthmatic, so the cold conditions were particularly difficult for him.
"Obviously, it's disappointing; the cold air's never great for me," Rupp said.  "You know, I really just had to strip everything back the last couple of years.  It's been like four years since I've really run normally.  It's going to take some time."  He added: "I know where I'm at now.  I have to start somewhere.  I feel like I can actually train, be healthy, and walk normal for tomorrow."
Early leader Thompson finished 16th in 1:04:32 and was mildly upset with himself.
"You know how you're supposed to get smarter as you get older?" he shouted to a reporter.  Then he shook his head and walked to the recovery area.
Top Finishes and Wheelchair Race
In the men's wheelchair race Dutchman Jetze Plat ran away with the race.  Clocking 48:28 he finished some five minutes ahead of American Daniel Romanchuk (53:07). 
American Susannah Scaroni won the women's wheelchair division in 55:47, a successful follow-up performance after her 2022 TCS New York City Marathon victory last November.  Switzerland's Manuela Schar got second in 55:56.
Some 25,000 athletes ran today's race, the 16th edition, and many remain on the course as this is being written.
Rewatch the Entire Race Here:
PHOTO: Jacob Kiplimo wins the 2023 United Airlines NYC Half in 1:01:31; race director Ted Metellus holds the finish line tape on the left (photo by Jane Monti for Race Results Weekly)
PHOTO: Hellen Obiri wins the 2023 United Airlines NYC Half in a course and event record of 1:07:21 (photo by Jane Monti for Race Results Weekly)