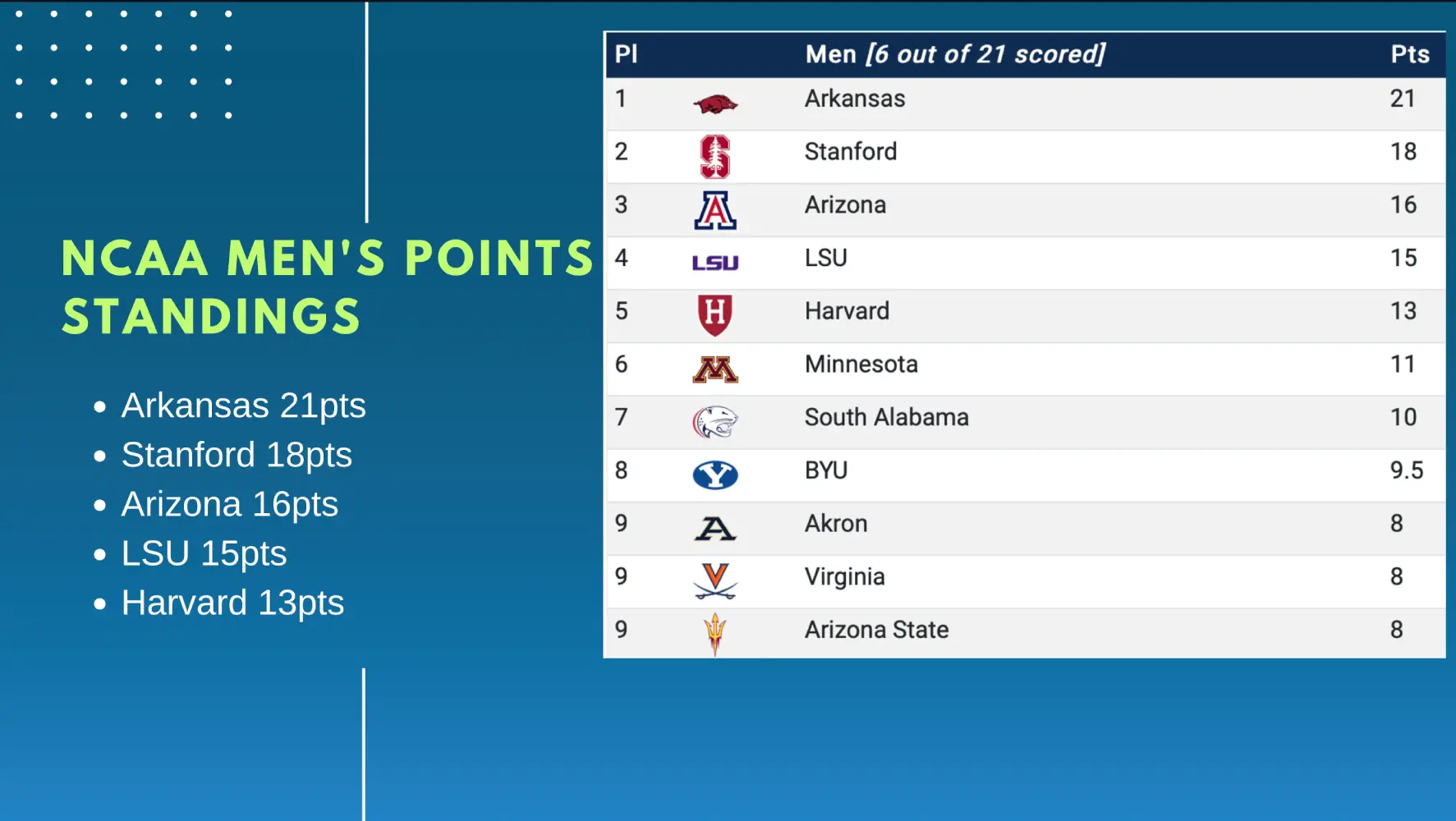 The points standings and team rankings after the first day at the 2023 NCAA Outdoor Championships in Austin, Texas, on Wednesday night, 8 June. After six scored finals, Arkansas leads the way with 21 points on the men's side ahead of championship evening on Friday.
Arkansas took 18 points in the men's long jump after finishing first and second to build a three points lead on Day One and the SEC outfit will be hoping to carry over that momentum into Friday's third day when the men return to competition. – Read more: Day 2: NCAA Outdoor Championships order of event and how to watch live
Stanford finished Day One in second place in the team standings with 18 points, followed by Arizona with 16pts in third place. LSU follows with 15pts, and Harvard completes the top five with 13pts. Minnesota (11pts) and South Alabama (10pts) have also each scored double-digit points.
NCAA Men's Points Standings: Day 1
Arkansas – 21
Stanford – 18
Arizona – 16
LSU – 15
Harvard – 13
Minnesota – 11
South Alabama – 10
BYU – 9.5
Akron – 8
Virginia – 8
Arizona State – 8
Kentucky – 6.33
Baylor – 6.33
Cincinnati – 6
Texas Tech – 5.5
Washington – 5.5
Florida – 5
Georgia – 5
Miami (Fla.) – 5
Gonzaga – 5
Nebraska – 5
Miss State – 4
Kansas – 4
Oklahoma State – 4
Texas A&M – 4
USC – 4
Navy – 3
Ohio State – 3
Oklahoma – 3
Princeton – 2.5
Butler – 2
Florida State – 2
Notre Dame – 2
Penn State – 2
Ole Miss – 1
California – 1
Houston – 0.33