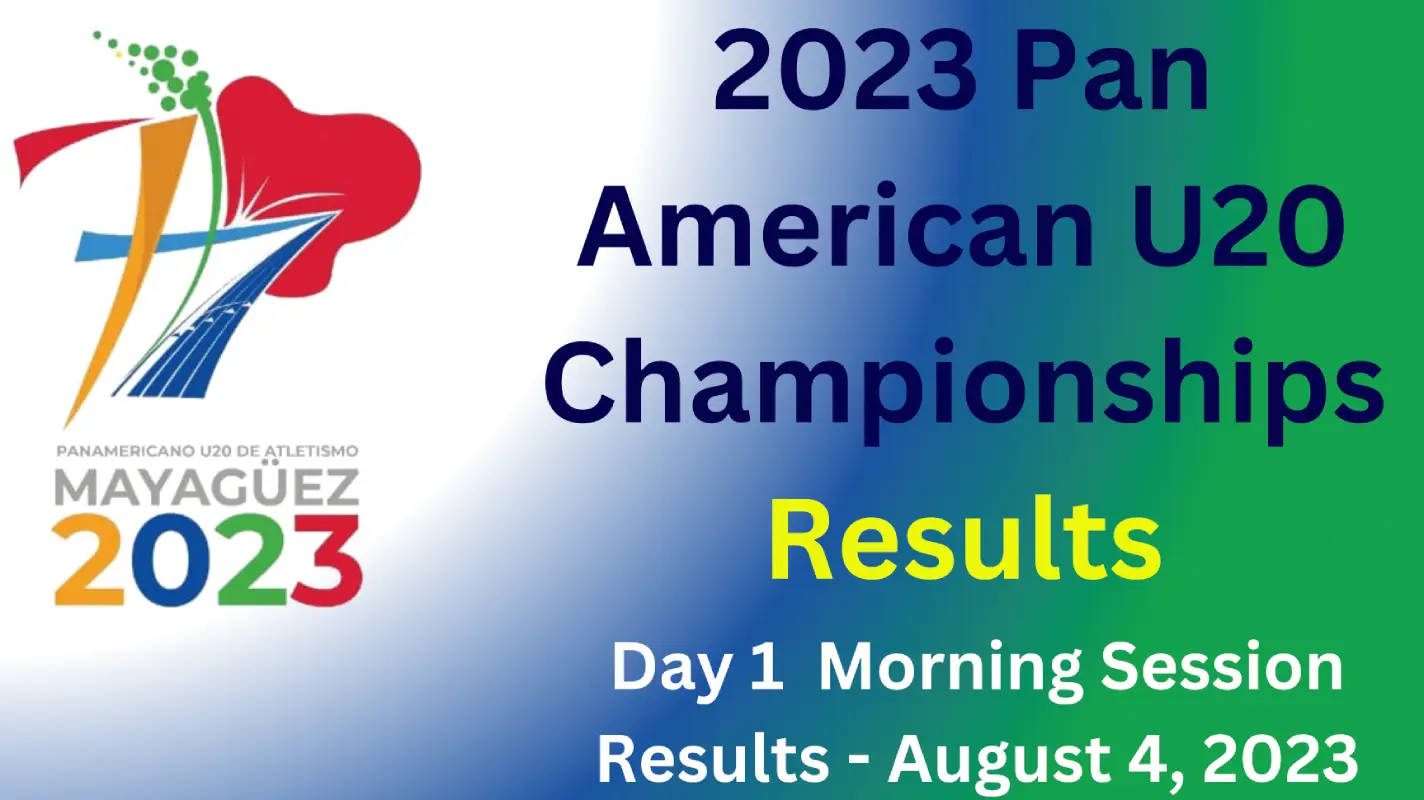 The following is the complete morning session's latest Pan American U20 Championships 2023 track and field results on Day One at the Jose A. Figueroa Freire Stadium in Mayagüez, Puerto Rico, on Friday, 4 August. The track and field results on the first day include the men's and women's 100m heats.
It was a very windy morning, which affected the productively of the sprinters, but all the medal favorites, including Jamaicans Bouwahjgie Nkrumie and Alana Reid, as well as USA's Kaila Jackson, all progressed to this evening's final of the men's and women's 100m dash.
The morning session featured five finals, including the women's 10,000m race walk, with the gold medal going to Sharon Herrera Soto of Costa Rica, who posted a time of 49:53.76.
So far, after the morning session, the United States has already won five medals –consisting of two golds and three silvers.
Pan American U20 Championships 2023 track and field results
Men's 100m
Heat 1 (-2.9 m/s)
Tyler Azcano (United States) – 10.58 Q

Storm Zablocki (Canada) – 10.72 Q

Ajani Daley (Antigua and Barbuda) – 10.74 q

Aragorn Straker (Barbados) – 10.90

Zion Campbell (Bahamas) – 10.91

Aron Earl Saenz (Peru) – 10.98

Juan Alvarez Cores (Uruguay) – 11.13

Gustavo Mongelos Alvarez (Paraguay) – 11.23




DNS: Darren Beaver (Canada)
Heat 2 (-2.7 m/s)
Jeevan Newby (Jamaica) – 10.75 Q

Cameron Tarver (United States) – 10.76 Q

Carlos Brown (Bahamas) – 10.77

Renan de Lima Gallina (Brazil) – 10.81

Lucas Villegas (Argentina) – 11.02

Alex Gordon (Cayman Islands) – 11.19

Mikei George (British Virgin Islands) – 11.31




DNS: Liranyi Alonso Tejada (Dominican Republic)
Heat 3 (-2.6 m/s)
Bouwahjgie Nkrumie (Jamaica) – 10.60 Q

Adrian Canales Correa (Puerto Rico) – 10.67 Q

Davonte Howell (Cayman Islands) – 10.83

Tomas Mondino (Argentina) – 11.05

Shavique Bascus (Antigua and Barbuda) – 10.76 q




DNS: Reneisha Andrews (Trinidad and Tobago)
Men's Hammer Throw Final
Miguel Castro Vasquez (Chile) – 72.47m (237′ 9″)

Tomas Olivera (Argentina) – 71.16m (233′ 5″)

Jose Chavez Espinoza (Mexico) – 70.23m (230′ 5″)

Jean Ortiz Cruz (Colombia) – 68.43m (224′ 6″)

Michael Pinckney (United States) – 68.38m (224′ 4″)

Cipriano Riquelme Barra (Chile) – 65.61m (215′ 3″)

Gary Moore (United States) – 64.89m (212′ 10″)

David Ayala (El Salvador) – 63.82m (209′ 4″)
Women's Results – Pan American U20 Athletics Championships
Women's 100m
Heat 1 (-0.9 m/s)
Camryn Dickson (United States) – 11.75 Q

Khristel Martindale (Barbados) – 12.19 Q

Paula Daruich Velit (Peru) – 12.26

Maria Ulysse (Canada) – 12.27

Anaika Louis (Haiti) – 12.73




DNS: Karina Franceschi Rivera (Puerto Rico)
Heat 2 (-0.9 m/s)
Kaila Jackson (United States) – 11.47 Q

Frances Colon Vazquez (Puerto Rico) – 11.85 Q

Emily Martin (Canada) – 11.99 q

Asharria Ulett (Jamaica) – 12.14 q

Tijuanique Morton (Saint Kitts and Nevis) – DNS




DNS: Kenyatta Grate (British Virgin Islands)
Heat 3 (-2.6 m/s)
Alana Reid (Jamaica) – 11.96 Q

Vanessa Sena dos Santos (Brazil) – 12.04 Q

Itzia Mejia Garcia (Mexico) – 12.15




DNS: Reneisha Andrews (Trinidad and Tobago)
Women's 10,000m Race Walk Final
Sharon Herrera Soto (Costa Rica) – 49:53.76

Heather Durrant (United States) – 50:02.61

Renata Cortes Romero (Mexico) – 52:07.23

Talia Green (United States) – 53:49.82, 276
Women's Hammer Throw Final
Giavonna Meeks (United States) – 59.17m (194′ 1″)

Skylar Soli (United States) – 59.13m (194′ 0″)

Sophie Perez Gonzalez (Guatemala) – 57.93m (190′ 0″)

Yarielis Torres Rios (Puerto Rico) – 57.60m (188′ 11″)

Giuliana Baigorria Alarcon (Argentina) – 56.67m (185′ 11″)

Liangie Calderon Reyes (Puerto Rico) – 46.57m (152′ 9″)
Women's Shot Put Final
Mensi Stiff (United States) – 16.70m (54′ 9½")

Wisdom Williams (United States) – 15.14m (49′ 8¼")

Taniele Jesus da Silva (Brazil) – 14.16m (46′ 5½")

Julia Tunks (Canada) – 13.83m (45′ 4½")

Florencia Mule Dupans (Argentina) – 12.54m (41′ 1¾")

Brianna Smith (Cayman Islands) – 11.69m (38′ 4¼")

Rebeca Garay (El Salvador) – 11.32m (37′ 1¾")

YaNelli Dawkins (Cayman Islands) – 10.35m (33′ 11½")
For more results and updates, click here