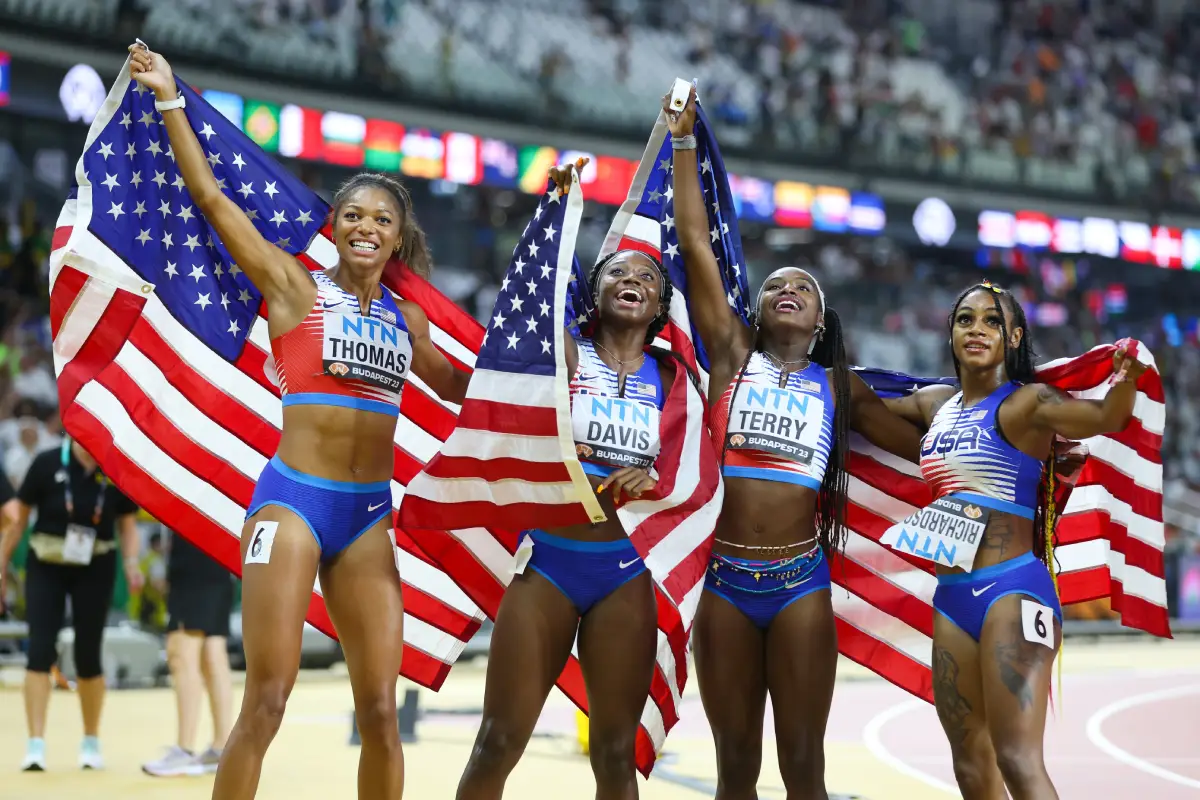 BUDAPEST (August 28) — As the sun set all across the globe, the curtain came down on the World Athletics Championships 2023 in Budapest, marking the end of nine days of exhilarating track and field action. The United States, with its rich history in track and field, once again stamped its authority, topping the medal table standings here at Budapest 2023 with a staggering 29 medals, including 12 golds.
The American team, known for its depth and overwhelming talent, dominated the relay events, clinching four out of the possible five golds. Rai Benjamin, the Olympic 400m silver medalist, anchored the men's 4x400m relay team to a dominant victory, finishing in a world-leading time of 2:57.31.
"It's what we talked about before. After the 400m hurdles, I wanted to come back and anchor this relay. It means a lot that the guys have faith in me and trust me," Benjamin remarked after the race.
Another North American nation, Canada, secured the second spot with six medals. Spain impressed by sweeping all golds in the race walk events, while Jamaica, the sprint powerhouse from the Caribbean, ensured its top position in the region with a total of 12 medals.
Meanwhile, Great Britain, despite facing challenges, managed to equal their best-ever haul from a World Championships, bringing home 10 medals.
Keely Hodgkinson, the rising star of British athletics, added another silver to her collection in the women's 800m final on the last day on Sunday. The British 4x400m relay teams, both men and women, were also on the podium on day nine, clinching bronze medals.
France, after a long wait, finally had a reason to celebrate as they secured silver in the men's 4x400m relay, marking their first podium finish of the Championships.
Ludvy Vaillant, who ran the first leg for the French team, expressed his joy, stating, "We dreamed about this, we talked about this with the guys. We broke a national record and won a silver medal. That is job done."
Meanwhile, here at Budapest 23, a total of 46 countries have won at least one medal at the 2023 World Athletics Championships, and 23 teams have won at least one gold medal.
As the track and field fans and athletes bid farewell to Budapest 2023, the focus now shifts to Tokyo, which will host the next edition of the World Athletics Championships in 2025. With new records set and young talents emerging, the future of athletics looks brighter than ever.
And by the way, don't forget that World-Track will also be covering the Paris 2024 Olympic Games next summer.
Great Team Work!
Big shout out to all our valuable reporters, including Gary Smith, Symone Goss, and of course, David Monti @d9monti and Jane Monti @janemonti1 from Race Results Weekly, for their brilliant contribution in the coverage of the World Athletics Championships in Budapest.
Photo by Christian Petersen/Getty Images for World Athletics
Here are the final World Championships medal standings for Budapest 2023: Day 9
| RANK | COUNTRY | GOLD | SILVER | BRONZE | TOTAL |
| --- | --- | --- | --- | --- | --- |
| 1 | United States | 12 | 8 | 9 | 29 |
| 2 | Canada | 4 | 2 | 0 | 6 |
| 3 | Spain | 4 | 1 | 0 | 5 |
| 4 | Jamaica | 3 | 5 | 4 | 12 |
| 5 | Kenya | 3 | 3 | 4 | 10 |
| 6 | Ethiopia | 2 | 4 | 3 | 9 |
| 7 | Great Britain & N.I. | 2 | 3 | 5 | 10 |
| 8 | Netherlands | 2 | 1 | 2 | 5 |
| 9 | Norway | 2 | 1 | 1 | 4 |
| 10 | Sweden | 2 | 1 | 0 | 3 |
| 11 | Uganda | 2 | 0 | 0 | 2 |
| 12 | Australia | 1 | 2 | 3 | 6 |
| 13 | Italy | 1 | 2 | 1 | 4 |
| 14 | Ukraine | 1 | 1 | 0 | 2 |
| 15 | Greece | 1 | 0 | 1 | 2 |
| 15 | Japan | 1 | 0 | 1 | 2 |
| 15 | Morocco | 1 | 0 | 1 | 2 |
| 18 | Bahrain | 1 | 0 | 0 | 1 |
| 18 | Burkina Faso | 1 | 0 | 0 | 1 |
| 18 | Dominican Republic | 1 | 0 | 0 | 1 |
| 18 | India | 1 | 0 | 0 | 1 |
| 18 | Serbia | 1 | 0 | 0 | 1 |
| 18 | Venezuela | 1 | 0 | 0 | 1 |
| 24 | Poland | 0 | 2 | 0 | 2 |
| 25 | Cuba | 0 | 1 | 2 | 3 |
| 26 | Botswana | 0 | 1 | 1 | 2 |
| 27 | Colombia | 0 | 1 | 0 | 1 |
| 27 | Ecuador | 0 | 1 | 0 | 1 |
| 27 | France | 0 | 1 | 0 | 1 |
| 27 | Israel | 0 | 1 | 0 | 1 |
| 27 | British Virgin Islands | 0 | 1 | 0 | 1 |
| 27 | Pakistan | 0 | 1 | 0 | 1 |
| 27 | Peru | 0 | 1 | 0 | 1 |
| 27 | Philippines | 0 | 1 | 0 | 1 |
| 27 | Puerto Rico | 0 | 1 | 0 | 1 |
| 27 | Slovenia | 0 | 1 | 0 | 1 |
| 37 | Pr Of China | 0 | 0 | 2 | 2 |
| 37 | Czech Republic | 0 | 0 | 2 | 2 |
| 39 | Barbados | 0 | 0 | 1 | 1 |
| 39 | Brazil | 0 | 0 | 1 | 1 |
| 39 | Finland | 0 | 0 | 1 | 1 |
| 39 | Grenada | 0 | 0 | 1 | 1 |
| 39 | Hungary | 0 | 0 | 1 | 1 |
| 39 | Lithuania | 0 | 0 | 1 | 1 |
| 39 | Qatar | 0 | 0 | 1 | 1 |
| 39 | Romania | 0 | 0 | 1 | 1 |