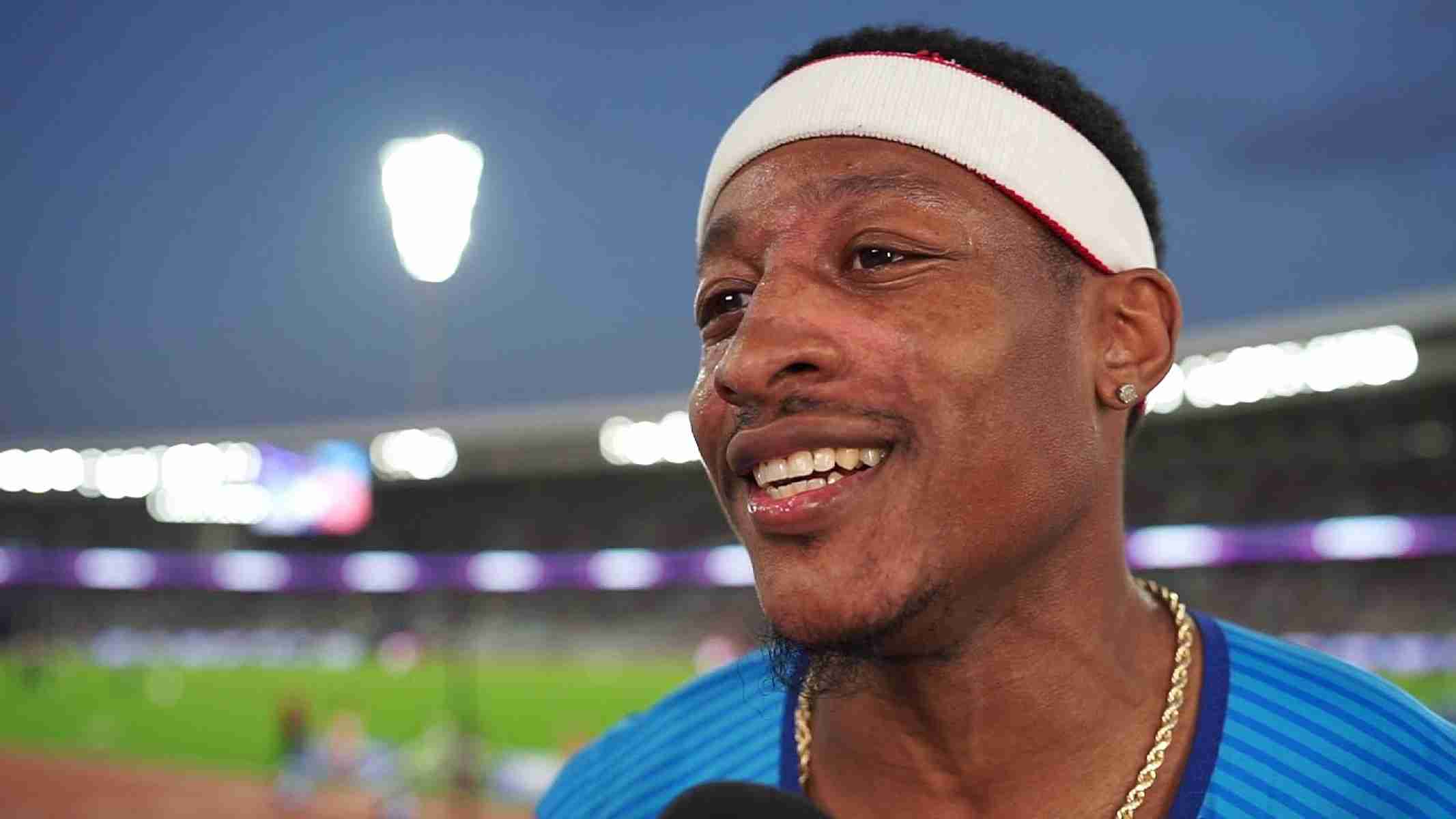 The Astana Meeting 2023 – World Athletics Indoor Tour Silver event took place today – on Monday, January 23rd in Astana, Kazakhstan. Below you will find the complete results from the meeting with American veteran sprinter Michael Rodgers among the winners today.
Rodgers won the men's 60m with a time of 6.66 seconds, posting the same time as USA countryman Demek Kemp, while Frederico Curvelo of Portugal finished third with a time of 6.75secs.
READ MORE: Alaysha Johnson edges Devynne Charlton in 60m hurdles at Hawkeye Pro Classic
The Men's 400m went to home favorite Mikhail Litvin of Kazakhstan with a time of 46.41, while Marino Bloudek of Croatia won the men's 800m with a time of 1:48.23 to edge Nicholas Kiplangat Kipkoech of Kenya who clocked 1:48.31.
Elsewhere, Ali Abdilmana of Ethiopia took the men's 3000m in 7:52.43, Arialis Gandulla won the women's 60m dash with 7.18 seconds and Nadezhda Dubovitskaya, the World Indoor bronze medalist 2022, won the women's high jump with a clearance of 1.93 meters.
Astana Meeting 2023 results
Men's 60m indoor
Final
POS. ATHLETE COUNTRY MARK
1 Michael RODGERS USA 6.66
2 Demek KEMP USA 6.66
3 Frederico CURVELO POR 6.75
4 André PRAZERES POR 6.77
5 Vitaliy ZEMS KAZ 6.86
6 Andrey LAVRUSHENKO KAZ 6.97
7 Ildar AKHMADIEV TJK 7.06
8 Ruslan KURMANALIEV KAZ 7.17
Men's 60m indoor
Group B
POS. ATHLETE COUNTRY MARK
1 Michael RODGERS USA 6.71
2 Demek KEMP USA 6.74
3 Frederico CURVELO POR 6.77
4 André PRAZERES POR 6.86
5 Vitaliy ZEMS KAZ 6.9
6 Andrey LAVRUSHENKO KAZ 6.97
7 Ildar AKHMADIEV TJK 7.04
8 Ruslan KURMANALIEV KAZ 7.22
9 Aibar YESSENGELDI KAZ 7.3
10 Bakytzhan ORYNSHAIYKHOV KAZ 7.3
11 David KIM KAZ 7.5
Almat TULEBAEV KAZ DQ
Men's 400m indoor
Final
POS. ATHLETE COUNTRY MARK
1 Mikhail LITVIN KAZ 46.41
2 Alexander RUSSO BRA 46.74
3 Andrey SOKOLOV KAZ 47.7
4 Vyacheslav ZEMS KAZ 48.16
5 Dmitriy KOBLOV KAZ 48.59
6 Artem DOBROSMISLOV KAZ 51.18
Men's 400m indoor
Group B
POS. ATHLETE COUNTRY MARK
1 Alexander RUSSO BRA 48.5
2 Mikhail LITVIN KAZ 49.26
3 Andrey SOKOLOV KAZ 49.32
4 Vyacheslav ZEMS KAZ 49.34
5 Dmitriy KOBLOV KAZ 49.83
6 Artem DOBROSMISLOV KAZ 50.34
7 Madi TOKENOV KAZ 51.59
8 Maxim MIRONOV KAZ 52.14
9 Sanzar ABYLBEK KAZ 54.82
Men's 800m indoor
Final
POS. ATHLETE COUNTRY MARK
1 Marino BLOUDEK CRO 1:48.23
2 Nicholas Kiplangat KIPKOECH KEN 1:48.31
3 Jan VUKOVIČ SLO 1:48.72
4 Abdulyaziz ABDUKAYUMOV KAZ 1:50.15
5 Bauyrzhan REIMBAEV KAZ 2:00.51
6 Niyattulla AIBOL KAZ 2:05.49
7 Kamil SALIHOV KAZ 2:11.33
Madi TOKENOV KAZ DNF
Men's 3000m indoor
Final
POS. ATHLETE COUNTRY MARK
1 Ali ABDILMANA ETH 7:52.43
2 Alex GEORGE GBR 8:07.55
3 Alexey GUSSAROV KAZ 8:27.10
4 Rakymzhan KELMANOV KAZ 8:38.44
5 Vadim LEVCHENKOV KAZ 8:39.47
6 Alimzhan BALTABEK KAZ 9:23.52
Men's 60mH indoor
Final
POS. ATHLETE COUNTRY MARK
1 Roger IRIBARNE CUB 7.62
2 David YEFREMOV KAZ 7.65
3 Yevgeniy PROKUDIN KAZ 7.91
4 Dániel ESZES HUN 7.99
5 Danila KORR KAZ 8.39
6 Zakhar LEVITSKIY KAZ 8.79
7 Danil SHUKIN KAZ 9.23
João Vitor DE OLIVEIRA POR DQ
Men's 60mH indoor
Group B
POS. ATHLETE COUNTRY MARK
1 David YEFREMOV KAZ 7.62
2 Roger IRIBARNE CUB 7.83
3 Yevgeniy PROKUDIN KAZ 7.92
4 João Vitor DE OLIVEIRA POR 8.07
5 Dániel ESZES HUN 8.14
6 Danila KORR KAZ 8.35
7 Danil SHUKIN KAZ 8.71
8 Zakhar LEVITSKIY KAZ 8.73
9 Danil SOKOLOV KAZ 8.96
10 Leonid IBRAGIMOV KAZ 9.13
Women's 60m indoor
Final
POS. ATHLETE COUNTRY MARK
1 Arialis Josefa GANDULLA POR 7.18
2 Olga SAFRONOVA KAZ 7.3
3 Magdalena LINDNER AUT 7.43
4 Tamiris DE LIZ BRA 7.44
5 Shannon RAY USA 7.51
6 Arina MISHEEVA KAZ 7.64
7 Kristina ERMOLA KAZ 7.76
Franciela KRASUCKI BRA DQ
Women's 60m indoor
Group B
POS. ATHLETE COUNTRY MARK
1 Arialis Josefa GANDULLA POR 7.24
2 Olga SAFRONOVA KAZ 7.32
3 Magdalena LINDNER AUT 7.43
4 Tamiris DE LIZ BRA 7.45
5 Shannon RAY USA 7.51
6 Franciela KRASUCKI BRA 7.63
7 Arina MISHEEVA KAZ 7.66
8 Kristina ERMOLA KAZ 7.81
8 Mariya SHUVALOVA KAZ 7.81
10 Anel SHULAKOVA KAZ 7.87
11 Valeriya BROMAT KAZ 7.96
12 Anna DUBINA KAZ 8.04
13 Ayajan MUSAYEVA KAZ 8.08
Tristan EVELYN BAR DQ
Women's 400m indoor
Final
POS. ATHLETE COUNTRY MARK
1 Elina MIKHINA KAZ 55.14
2 Alexandra ZALYUBOVSKAYA KAZ 55.28
3 Kristina KORYAGINA KAZ 55.87
4 Adelina AKHMETOVA KAZ 55.9
5 Svetlana KUZNETSOVA KAZ 57.71
6 Ayim KAYSANOVA KAZ 58.2
Women's 400m indoor
Group B
POS. ATHLETE COUNTRY MARK
1 Alexandra ZALYUBOVSKAYA KAZ 56.09
2 Elina MIKHINA KAZ 56.6
3 Kristina KORYAGINA KAZ 56.71
4 Adelina AKHMETOVA KAZ 57.05
5 Svetlana KUZNETSOVA KAZ 57.61
6 Ayim KAYSANOVA KAZ 57.74
7 Anastasiya TSVIRKUNOVA KAZ 58.02
8 Anastassiya KOLODA KAZ 58.75
9 Ekaterina KOLODA KAZ 58.87
10 Sofiya KIM KAZ 59.22
11 Milana ZUBAREVA KAZ 60.26
Women's 1500m indoor
Final
POS. ATHLETE COUNTRY MARK
1 Jarinter Mawia MWASYA KEN 4:14.26
2 Hirut MESHESHA ETH 4:14.40
3 Camila GOMES POR 4:26.63
4 Tatyana NEROZNAK KAZ 4:33.27
5 Viktoriya SENKINA KAZ 4:48.19
6 Natalya ULBRIHT KAZ 5:22.44
Women's High Jump indoor
Final
POS. ATHLETE COUNTRY MARK
1 Nadezhda DUBOVITSKAYA KAZ 1.93m
2 Kristina OVCHINNIKOVA KAZ 1.89
3 Yelizaveta MATVEYEVA KAZ 1.89
4 Safina SADULLAYEVA UZB 1.85
5 Arina MALYUGINA KAZ 1.65
6 Ekaterina NOVIKOVA KAZ 1.55
Women's Long Jump indoor
Final
POS. ATHLETE COUNTRY MARK
1 Darya REZNICHENKO UZB 6.32
2 Anastassiya RYPAKOVA KAZ 5.89
3 Alina CHISTYAKOVA KAZ 5.84
4 Valeriya SAFONOVA KAZ 5.71
5 Diana GEINTS KAZ 5.64
6 Ekaterina AVDEЕNKO KAZ 5.56
7 Elizaveta FEDORUK KAZ 5.46
8 Nadezhda BOGDANOVA KAZ 5.42
9 Dilyara KHAIBULLINA KAZ 5.05