By David Monti, @d9monti
(c) 2023 Race Results Weekly, all rights reserved
NOTE: This story was written remotely –Ed.

(18-Feb) — At the 44th World Athletics Cross Country Championships today in Bathurst in New South Wales, Australia, athletes were humbled by the extraordinary tough course, searing heat, and gusting winds.  But in the end, Jacob Kiplimo of Uganda and Beatrice Chebet of Kenya prevailed in the all-important senior 10-K races taking home the gold medals with dramatic last-lap racing. 
Kiplimo, 22, moved up from the silver medal at the last edition of these championships in Aarhus, Denmark four years ago, while Chebet, also 22, added the senior gold medal to the Under-20 title she earned in Aarhus.  Chebet also earned a team gold medal today (Kiplimo won bronze). Read more: Ras Al Khaimah Half Marathon 2023 results; wins for Hellen Obiri, Benard Kibet
GIDEY FALTERS IN FINAL METERS
Reigning world champion in the 10,000m, Ethiopia's Letesenbet Gidey, put on a master class in how to attack a championships cross country race for more than 30 minutes today.  She stayed back in the early laps, running in only 15th place after 2-K and ninth after 4-K.
She allowed the Ugandan and Kenyan squads to control the pace while she kept close watch on the leaders and bided her time.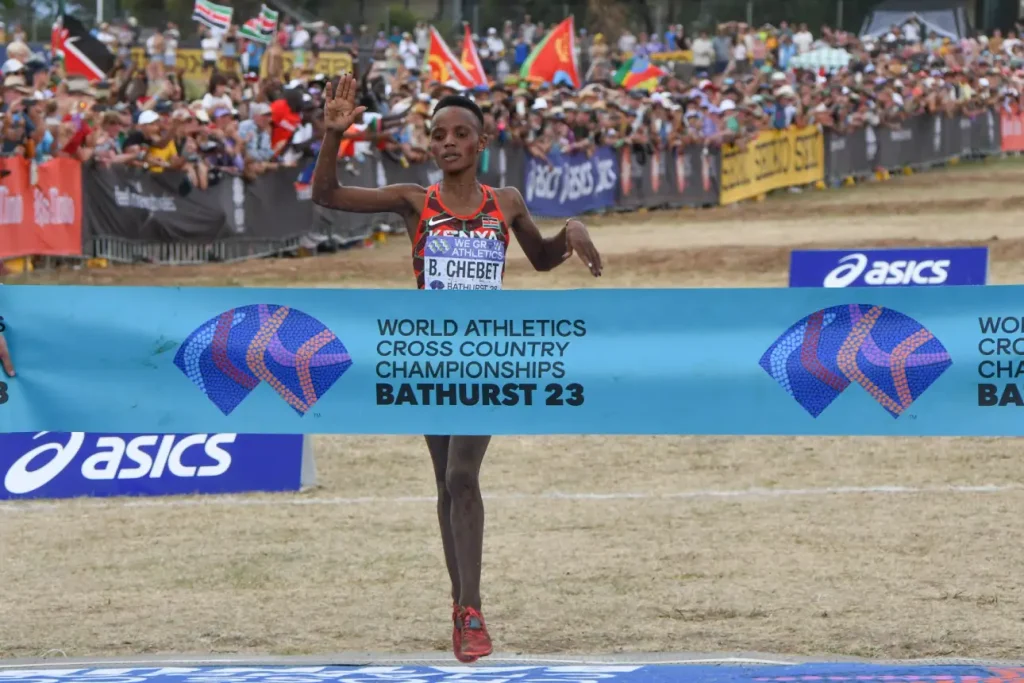 At the end of the third circuit (6-K), Gidey was in a pack of 12 led by her teammate Tsigie Gebreselama, eventual winner Chebet, Uganda's Prisca Chesang, and Kenya's Agnes Jebet Ngetich and Grace Loibach Nawowuna.  Gidey was running in seventh position now and had yet to really assert herself. 
Indeed, she waited until the end of the next lap where Nawowuna and Chebet had broken the race open and pulled away up the course's steepest hill, dubbed The Boomerang.  Slicing through the short section where the athletes ran between two rows of grape vines, Gidey seemed to be in full control. 
She took the final hairpin turn then successfully navigated the section called The Chicane where the athletes had to zig-zag between rows of piled automobile tires. Victory looked certain. Read more: Anna Hall advances in 400m, DeAnna Price sets weight throw world best: Day 2
But in the final homestretch, which had a series of small berms, Gidey suddenly looked unstable on her feet.  With only about 25 meters left in the race, with Chebet charging hard behind her, Gidey's legs simply went out from under her and she collapsed to the turf.
She lay there for a few seconds, apparently dazed, while Chebet whisked past her to get the win in 33:48.  Gebreselama also passed Gidey to get the silver medal, while two Ethiopian team officials –one from each side of the course– rushed to Gidey's aid, pulled her to her feet, and shoved her in the direction of the finish line.
Ngetich passed that scene to get bronze, and Gidey wobbled over the finish line in fourth place.
However, receiving that kind of aid is against World Athletics rules, and Gidey had to be disqualified.  That allowed Kenya to seal the team gold medal with a scant 16 points, while Ethiopia had to settle for silver with 25 and Uganda got bronze with 41.
"OK, I'm happy because I win today," Chebet told reporters.  She continued: "Last I was champion in 2019, world junior cross country.  Now, I'm happy because I represent my country well and I won a gold medal."
Australia got fourth place in the team competition with 92 points (their top finisher was marathoner Ellie Pashley in 19th place), and the United States was fifth with 103 points (top finisher was national champion Ednah Kurgat in 18th place).
KIPLIMO MOVES UP TO GOLD
The men's senior race was viewed by many as a rematch between reigning champion Joshua Cheptegei of Uganda and two-time winner Geoffrey Kamworor of Kenya, who won the bronze medal in Aarhus.
Indeed, both of those men figured prominently in today's race which had to be moved up by about 20 minutes because of the threat of a thunderstorm.
With the winds whipping the small white pennants attached to the course's guide ropes, the men set out on the final race of the day under cloudy skies with temperatures still above 30C/86F. 
Twenty-five athletes completed the first lap within five seconds of the leader, Uganda's Isaac Kibet, and all of the pre-race favorites remained in contention. 
Kamworor was in fourth; his teammates Daniel Ebenyo and Kibiwott Kandie were in fifth and eighth, respectively; Ethiopia's Selemon Barega and Berihu Aregawi were in seventh and 12th, respectively; and Kiplimo and Cheptegei were running in 20th and 21st, respectively.
By the end of the third lap, Cheptegei had worked his way to the front.  Kamworor was second, Ebenyo third, Kiplimo fourth, Aregawi fifth and Kandie sixth.  Barega slipped back to ninth position, and it quickly became apparent that the medals would come from these leading six.
Kandie and Ebenyo were dropped in the penultimate circuit, leaving Cheptegei, Kiplimo, Kamworor, and Aregawi to battle it out for the medals.  Cheptegei was the leader at 8-K (23:30).
About 90 seconds later, Kiplimo began to pull away.  Cheptegei chased, but Kamworor was struggling to keep up.  At the final hairpin turn before The Chicane, Kiplimo had a seven-second lead and he would not be caught.
He glided comfortably to the finish, smiling broadly and waving to the crowd, to collect the gold medal in 29:17. Aregawi overhauled Cheptegei to get silver (29:26), and Cheptegei had to settle for bronze in 29:37.
Kamworor received the same time as Cheptegei in fourth place after sprinting in the final meters and getting close to his friend and rival.
"The course was really tough," said a delighted Kiplimo.  "I'm happy I won the race."
Although he didn't win an individual medal for the first time since 2015, Kamworor won a team gold.  His Kenyan squad scored 22 points to Ethiopia's 33.  Uganda got bronze with 37.
Australia finished fourth with 116 points (top finisher was Ky Robinson of Stanford University in 23rd place), and South Africa was fifth with 118 points (top finisher Precious Mashele in 16th). The United States was sixth with 134 (the top finisher was Sam Chelanga in 21st).
KENYA AND ETHIOPIA DOMINATE U20 RACES
In the under-20 races, Kenya and Ethiopia dominated, but the United States came away with two team bronze medals.  In the U-20 women's 6-K race Ethiopia's Senayet Getachew and Medina Eisa took the gold and silver medals in 20:53 and 21:00, respectively.
Kenya's Pamela Kosgei got third in 21:01.  Ethiopia won the team title with just 15 points, seven ahead of Kenya with 22. 
The United States, on the strength of four women –Ellie Shea, Irene Riggs, Karrie Baloga and Zariel Macchia– finishing 10th, 12th, 13th and 19th, respectively, got the bronze.  They scored 54 points, well ahead of fourth place Uganda (75).  
"I feel great; it was really fun," Shea, 17, told LetsRun.com.  The 17 year-old from Belmont, Mass. continued:  "It was really hard.  I fell in the mud (on the first lap), got right back up and kept going.  I'm so thankful to World Athletics for putting on an awesome meet for us."
Ishmael Kipkirui of Kenya won the U20 men's race in a close finish, clocking 24:29 for 8-K.  His teammate Reynold Kipkorir Cheruiyot finished one second behind, and Ethiopia's Boki Diriba got third just two seconds back. 
The Kenyans edged the Ethiopians by just one point for the team title, 22 to 23.  The United States was a distant third led by Leo Young of Newbury Park, Calif., in 16th place.
"That was one heck of a race," Young, the national U20 champion, told LetsRun.com.  "We went in with a really clear strategy.
"We knew where each other were during that race and I can confidently say each and every one of us executed that strategy to the best of our ability."
MORE MEDALS FOR KENYA AND ETHIOPIA IN THE MIXED RELAY
In the 4 x 2000m mixed relay, where each team had two women and two men run one 2-K lap each, the Kenyan quartet of Emmanuel Wanyonyi, Mirriam Cherop, Kyumbe Munguti, and Brenda Chebet clocked 23:14, seven seconds ahead of Ethiopia. 
The home team of Oliver Hoare, Jessica Hull, Stewy McSweyn and Abbey Caldwell won the bronze medal in 23:26, much to the delight of the fans who had gathered at the Mount Panorama Racing Circuit where the competition was held.
"There is always pressure when it comes to racing on home soil when you have the résumés that we have and the anticipation of what was to come," Hoare, the reigning Commonwealth Games 1500m champion, told Athletics Australia.  
"That's why we do this sport, we handle the pressure the way we handle it and being at home, I know personally that people have come here to cheer us on."
– – – – – – –
The next edition of the World Athletics Cross Country Championships will take place in Medulin and Pula in Croatia in 2024.
PHOTO: Jacob Kiplimo of Uganda winning the 2023 World Athletics Cross Country Championships in Bathurst, Australia (photo by Clay Shaw for Race Results Weekly)
–Complete Results Click Here